ANJANI KUMAR AGARWAL (CEO & Managing Director)

A man of boundless energy and dynamism, with a taste for challenging assignments, Anjani Kumar Agarwal (A.K. Agarwal) is a Management graduate and has a penchant for attending many management and personality development programs to update himself on the latest knowledge domains.

He is an adept at marketing guru to the core and had pioneered an international standard school in Hyderabad, a vision that he cherished from his youth. After initial hiccups and hassles and umpteen hurdles he successfully established a true international model school that has many a first to its credit.

A.K Agarwal as he is known for contemporary ideas blending superbly with conventional wisdom. He believes that " The highest reward for a person's toil is not what they get for it, but they become by it. The price of greatness is responsibility. Love what you do. Do what you love".

A.K Agarwal has a dual role of taking full control of DRSIS and the marketing division of DRS Group. He is of the opinion that a busy man always finds time and should not shirk work attributing to lack of time. He believes that one cannot escape the responsibility of tomorrow by evading it today.
C.S. RAGHUNANDAN (CFO)

With 25 years of exposure in Domestic and international markets, handling groups entire Accounts & Finance, Audit & Inspection, Stores, HR & Administration Activities. Multifaceted personality with more growth oriented and developmental mind set.

His men management skills has given lot of inputs to his subordinates and won many accolades to his credit with their elevation based on merit. Commerce & Management graduate with specialization in HR and Financial management from a reputed University / Institution. Has an expert and in-depth knowledge about the organizational due diligence, private equity participation, Liasioning with banks and financial institutions' and also Govt. agencies with core functionality as Accounting.

Has attended various management programmes conducted by external management Consultants / Institutes and responsible for in-house trainings and also a certified ISO internal auditor. He has control over the entire organization accounting and departmental training and recruitment with overall eye on each individual performance parameters in his department.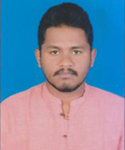 TEKULAPALLI SIVA RAMA KRISHNA (Company Secretary)